In wire electrical discharge machining (WEDM), or wire-cut EDM, a thin single-strand metal wire is fed through the work piece, typically occurring while submerged in a tank of dielectric fluid. This process is used to cut plates and to make punches, tools, and dies from any conductive material, including hard metals, that are too difficult to machine with other methods. The wire is held between upper and lower diamond guides. The guides move in the x–y plane controlled by CNC and the upper guide can also move independently in the z–u–v axis, giving rise to the ability to cut tapered and transitioning shapes and can control axis movements. This gives the wire-cut EDM the ability to be programmed to cut very intricate and delicate shapes. Wire-cutting EDM is commonly used when low residual stresses are desired. Wire EDM has no added residual stress because it has no cutting forces. There is little change in the mechanical properties of a material in wire-cutting EDM due to these low residual stresses.
Super Jet AWT
Excellent performance of "Super Jet AWT" was demonstrated at "Inter Mold 2007", which was held in April 2007. In the demonstration, auto threading was performed in the most challenging situation in which both entrance and exit hole of start hole are in pockets, making it impossible for upper and lower wire guides to approach the threading hole.
Advantages of "Super Jet AWT"
Wire is threaded easily through work piece with Pockets on top and bottom surface. Improving threading success rate.
New guide options give higher machining precision, longer life and lower running costs.
Wire tip disposal unit can handle thin wires, increasing threading reliability.
Reliable auto threading through wide angle taper guides.
Improved threading through tall work pieces, with annealed and heat cut wire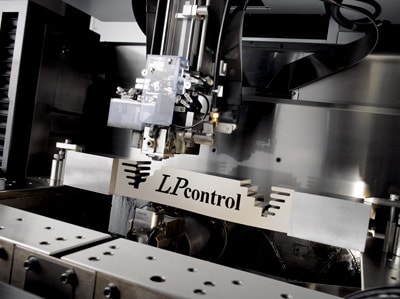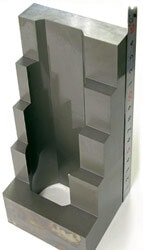 Advantageous in machining parts with complex shape
Without technical know-how, the high precision machining achieved by experienced engineers can now be easily performed by anybody.
In wire-EDMing of parts, the necessities of performing high precision machining on complex shapes with stepped height is increasing. The latest wire EDM machines from Sodick feature not only high precision, and high responsiveness of linear motor, but the automatic processing and surface finishing of complex shape workpiece without the need of adjusting machining conditions, leading to high speed and high precision machining.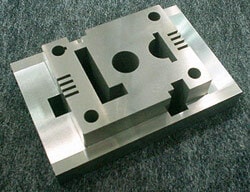 Auto stepped height machining
Because latest "Discharging gap detection circuit" can precisely detect the status of the discharge gap during roughing and finishing, optimum servo control is possible even in finishing process. Even with varying thickness of work pieces, the machine can be automatically adjusted and even complex shape can be machined without the need of thinking about machining conditions.
Easy processing of complex shape
Latest "discharging gap detect circuit" quickly detects the changes in the discharge gap when thickness of workpiece changes. In machining a complex stepped height shape, the circuit feeds back the status of the constantly changing discharging gap and thus saves the bothersome task of changing machining conditions, realising stable high precision machining.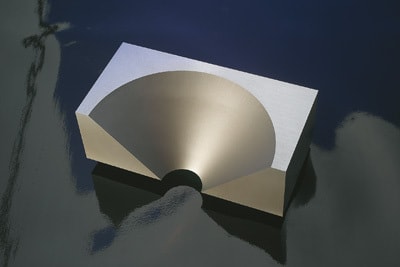 Taper flex 45
Taper Flex 45 is available as an option for further advanced high angle taper cutting up to 45°. Taper Flex 45 is easy to use and requires no special training. The function consists of three parts, high angle guides, and compensation jig and specialised software