Sodick's Motion Controller
All Sodick machines operate with Sodick Motion Control (K-SMC) technology, developed specifically for Sodick linear motor drives. The external features include maximum and logical ease of use. The internal K-SMC functions on the basis of a 64-bit multifunctional open system. The K-SMC directly monitors and automatically readjusts the spark gap - without any of the delays formerly experienced with the gap detector. The energy consumption is cut by approximately 40% and machining times are significantly reduced.
The K-SMC controls the axes movement and replaces the older style motor drivers.
Sodick's K-SMC motion controller maximises the speed and acceleration of the linear motor axes drives resulting in improved table positioning accuracy and reduced axes delays.
The K-SMC board was developed in the U.S.A by Sodick's own R&D division located in the Silicon Valley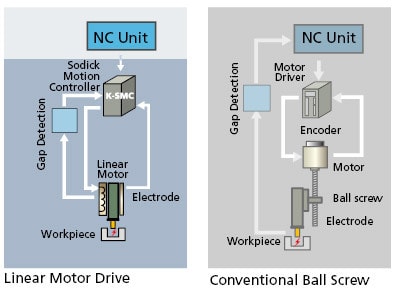 Ultra Fast Response Time
Sodick's Motion Controller (K-SMC) is integrated into the machine generator. It controls the axes motion, and monitors the changes in the spark gap. Because of its ultra fast response time, it can make adjustments to the spark gap at 500X per second resulting in instantaneous servo response.
The K-SMC can move up to 8 axes simultaneously unlike conventional motor drivers that move only one axis at a time. When linear motors are combined with the K-SMC, they vastly reduce wire breaks whilst simultaneously increasing the EDM rate and maintaining the optimal discharge spark gap.